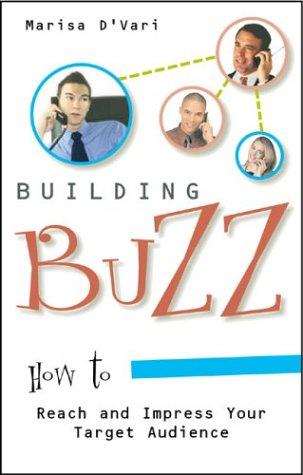 Building Buzz. How to Reach and Impress Your Target Audience este o carte scrisă pentru antreprenorii care vor să știe cum să se promoveze, cum să își creeze un brand care să le confere credibilitate și să le aducă vânzări.
Mie mi s-a părut că până să fie utilă pentru antreprenori ar trebui să fie folosită pe post de handbook/carte de buzunar de studenții la comunicare care vor să crească în consultanți  în PR.
Ca majoritatea cărților din categoria How to, e scrisă comercial, catchy și foarte pragmatic (mai ales pentru locuitorii din SUA).
Pe lângă ideile generale și câteva tips mi-au rămas în minte două idei:
Când vorbești la o conferință e bine să îți punctezi concluzia după sesiunea de întrebări și nu să închei cu aceasta. Astfel publicul rămâne cu gândul la ce ai vrut tu să transmiți nu la vreo idee sau întrebare din public.
Trebuie să scriu o carte. Dacă înainte doar voiam să scriu una, acum am trecut pe trebuie mood. Și tot cartea Marisei D'Vari mi-a dat o idee despre ce și despre cum să o scriu fără să trebuiască să mă rup de ce fac zi de zi sau să mi se pară o corvoadă.
Așadar, vă recomand cartea ca punct de plecare în construirea unui brand (personal sau al afacerii). Și se citește și rapid!:)
* Cartea am citit-o prin intermediul programului 3 cărți pe lună al CROS.